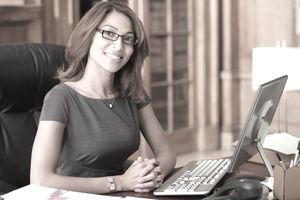 Job Description
A paralegal provides support to attorneys in a law office. He or she helps them get ready for trials, hearings and other legal proceedings by doing research, drafting legal documents, interviewing witnesses and preparing exhibits. Paralegals are sometimes called legal assistants.
Employment Facts
There were 277,000 paralegals employed in the United States in 2012. Most jobs are in law firms, but some are with government agencies and legal departments of corporations and other organizations.
Educational Requirements
If you want to become a paralegal, you have a few choices about how to do that. The simplest route is to find a law firm that is willing to train you on-the-job. There are employers that will do that, but most require formal training or prior work experience. If you haven't yet earned a college degree, you can enroll in a bachelor's or associate degree program in paralegal studies. A bachelor's degree program will be offered at a four-year college or university. You can get an associate degree by attending a community college for two years. If you already have a college degree, you can earn a certificate in paralegal studies. It will typically take under a year to do that. The American Bar Association, a professional association for attorneys, publishes a directory of approved paralegal education programs.
Why Do You Need to Know About Educational Requirements?
Other Requirements
If you wish, you can receive certification from several local and national paralegal associations.
This is entirely voluntary, but some feel it may improve one's chances in the job market. It is important to make sure your certification comes from a legitimate source. Otherwise, you will be wasting your time and money. It is always a good idea to check with your paralegal studies program before you pursue certification.
Certain soft skills, or personal qualities, will help you succeed in this field. Strong reading comprehension skills will allow you to deal with a large volume of written material. You must have strong listening and speaking skills in order to communicate with attorneys and clients. Since drafting legal documents is a big part of this job, you will also need good writing skills. The ability to think critically will allow you to evaluate solutions to problems and choose the one that has the best chance of working. Because you will often be dealing with tight deadlines, you will need to know how to manage your time well.
Advancement Opportunities
As you gain more experience as a paralegal, you will be given more responsibility. You can also look for more advanced positions at other firms. You may eventually qualify for a managerial position.
Why Do You Need to Know About Advancement?
Job Outlook
The job outlook for paralegals is excellent. Employment in this occupation is projected to grow faster than for other occupations through 2022. 
Why Do You Need to Know About Job Outlook?
Earnings
Paralegals earned median hourly wages of $23.24 and a median annual salary of $48,350 in 2014.
Use the Salary Wizard at Salary.com to find out how much a paralegal currently earns in your city.
A Day in a Paralegal's Life
These are some typical job duties taken from online ads for paralegal positions found on Indeed.com:
Assist with the preparation of basic pleadings such as motions, summons, subpoenas, exhibits, resolutions, and requests and responses to discovery
Assist in preparing legal documents such as arguments, motions, contracts and agreements
Provide litigation case management and organize cases for court presentation
Perform legal research and document analysis
Communicate with clients, adjusters, medical providers, and opposing parties
Occupations With Related Activities and Tasks
| | | | |
| --- | --- | --- | --- |
|   | Description | Annual Salary (2014) | Educational Requirements |
| Court Reporter | Records written transcripts of trials, hearings and other legal proceedings | $49,860 | Formal training resulting in an associate degree or certificate |
| Mediator | Helps people settle disputes without going to court | $57,180 | Some states require a law degree while others do not |
| Judicial Law Clerks | Prepare documents and do research for judges​ | $48,640 | Usually requires a law degree |
Sources:
Bureau of Labor Statistics, US Department of Labor, Occupational Outlook Handbook, 2014-15 Edition, Paralegals and Legal Assistants, on the Internet at http://www.bls.gov/ooh/legal/paralegals-and-legal-assistants.htm (visited September 19, 2015).
Employment and Training Administration, US Department of Labor, O*NET Online, Paralegals and Legal Assistants, on the Internet at http://online.onetcenter.org/link/details/23-2011.00 (visited September 19, 2015).