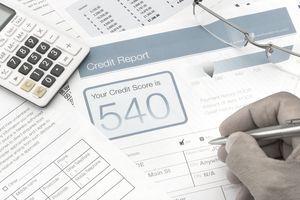 When you are applying for jobs, you will make sure your resume and cover letter are well written, up to date, and targeted to show that you are the best candidate for the job. When you are going to an interview, you'll do thorough research on the company and practice answering typical interview questions. However, one thing you may not think to prepare for​ is an employment credit check.
Employers are increasingly running credit checks on job applicants and using that information to make hiring decisions.
A Society of Human Resources Management (SHRM) survey reports that 60% of employers get credit reports on applicants for some or all positions. Most often, employers use credit checks for applicants for jobs that deal with money. For example, jobs that require confidentiality and financial integrity (including positions in banking, accounting, and investing) will likely require credit checks. The best way to prepare for an employment credit check is to know what is in one.
What is (and is not) Included in an Employment Credit Check
An employment credit check is one of many common employment background checks. Employers typically use a third-party company to provide them with an employment credit check on a job candidate. This credit check will result in an employment credit report. The report includes identifying information, including your name, address, previous names and addresses, and social security number.
It also shows the debt you have incurred, including credit card debt, mortgage and car payments, student and other loans, and your payment history of those debts and loans – including late payments.
However, there is certain information that is not included in an employment credit report. For example, your birth date is not included on the report.
It also does not include your credit score.
Laws Restricting Credit Checks
The Fair Credit Reporting Act (FCRA) is a piece of federal legislation that sets the standards for employment screenings, including credit checks. Here are a few things employers must do (or must not do) when conducting a credit check on a potential employee or a current employee:
The employer must get your written approval. Before an employer conducts a credit check on you, he or she must notify you in writing and get your written authorization. If you do not consent to the credit check, the employer might go forward with the interview process, but he or she may also reject your application on the spot.
The report can't include old information. Generally, the credit report cannot include negative information on you that is seven years old (or older). It also cannot include bankruptcies that are than 10 years old.
There are laws around bankruptcy information. According to the FCRA, you cannot be discriminated against solely because you filed for bankruptcy. However, bankruptcies are a public record, so it is easy for employers to obtain the information. 
You must be told if the report is used against you. If the employer does not hire you because of the report, he or she must tell you this.
The employer must also give you the contact information for the third-party agency used to get your credit report.
You can see what is in the report. You have a right to receive a copy of your credit report for free. You are also entitled to free report any time that report is used against you by an employer.
You can dispute the information. If you see the report and find out it is inaccurate, you can dispute the information. Here is more information on how to dispute errors in credit reports.
Some state laws vary. Some states have laws that restrict or prohibit employment credit checks. Check with your state's department of labor if you want to know the local laws about credit checks.
How to Prepare for a Credit Check
The best way to prepare for a credit check is to get a copy of your credit report as soon as possible.
This way, you can check for any issues or errors, and dispute them before an employer sees them.
You are legally entitled to one free copy of your credit report every year from each of the three nationwide credit reporting companies. Here is more information on how to access your free credit reports.
If you know that a credit check is going to turn up some questionable issues, it's a good idea to address them up front. When the employer asks your permission to run the check, you should explain as succinctly and honestly as possible what they may find, and what you have done to rectify the situation.
Particularly if you went through a period of unemployment, or some other financial hardship – which so many of us have – the hiring manager may be able to make a case for offering you a job despite what they find in your past.