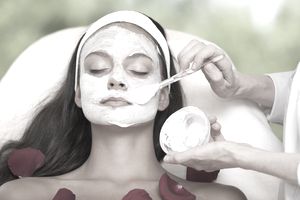 An esthetician is a skin care specialist who treats the skin on people's faces and bodies. After evaluating the condition of a client's skin, she determines what treatments will best enhance his appearance. She then discusses possible treatments. Estheticians give clients facials, remove unwanted hair, do microdermabrasion, apply chemical peels and sell skin care products. They are also trained to recognize skin conditions that require treatment by a licensed medical professional such as a dermatologist.
 Esthetics is a branch of cosmetology.
Quick Facts About Estheticians
In 2014, they earned a median salary of $29,050 annually or $13.97 per hour. 
44,000 people worked in this occupation as of 2012.
Estheticians usually work in spas and beauty salons.
The job outlook is excellent. Employment is expected to grow more quickly than the average for all occupations through 2024.
How to Get Started in This Career
Before you can begin your career, you will have to complete a two year esthetician program that has been approved by the state in which you want to work.
According to the Associated Skin Care Professionals (ASCP), a membership organization that represents people working in this field, you can expect to spend between 300 to 1500 hours in a classroom. Length of training varies by state licensing requirements.
After you complete your education, most states require that you get a license to practice. You will have to take written and practical exams.
To find out what the educational and licensing requirements are in the state in which you want to work, see the ASCP's Skin Care State Regulation Guide. The ASCP Website also has a list of skin care schools.
In addition to your education and license, your employer may also provide on-the-training.
What Soft Skills Do You Need to Succeed in This Career?
Active Listening: This skill will allow you to be tuned in to what clients are telling you so you can understand and subsequently fulfill their needs.
Speaking: You must be able to clearly convey information and instructions to your customers.
Customer Service: As an esthetician, your goal is to provide excellent service to your clients. This will not only ensure they leave happy and return in the future, but it will also help generate new business because satisfied customers are likely to refer their friends to you.
Critical Thinking: When trying to address a clients' skin problems, good critical thinking skills are essential. They will allow you to weigh the benefits of various treatments so you can decide which one is most likely to have the best outcome. 
Time Management: No one likes to be kept waiting too long. Your clients will be happier if you can manage your appointments well and minimize their wait times.
The Downside of Life as an Esthetician
Your work will require you to spend a lot of time on your feet.
Some of the chemicals you use to treat people's skin may have strong odors.
You will have to work evenings and weekends.
Many jobs pay a commission based on the services you provide and the products you sell.
Common Misconceptions
You will spend all your time providing skin treatments: In addition to treating clients, you will also have to tend to other tasks. That may include making appointments and selling products. Estheticians must keep their work areas clean and tidy. 
Every client will love you because you're good at your job: No matter how adept you are at choosing and applying the right treatment for each client, some will be unhappy with your services.
You can wear beautiful clothes to work: If your clothing comes into contact with many of the products you use, it will get damaged. You will have to cover up if you want to keep that from happening.
Your Education Ends When You Graduate: As new products and treatments come out, you will need to learn about them. Often, manufacturers and professional associations offer continuing education.
What Will Employers Expect From You?
Here are some requirements from actual job announcements:
Take pleasure in working with people and have an outgoing personality
Possess high level of product knowledge
Ability to up-sell clients
Ability to work flexible days and hours
Is This Occupation a Good Fit for You?
Related Occupations
| | | | |
| --- | --- | --- | --- |
|   | Description | Median Annual Wage (2014) | Required Education/Training |
| Hairstylist | Shampoos, cuts, colors and styles hair | $23,120 | State-approved cosmetology program; state license |
| Barber | Cuts, shampoos and styles men's hair | $25,410 | State-approved barber program; state license |
| Manicurist and Pedicurist | Cleans, shapes and applies polish, extensions and other products to fingernails and toenails. | $19,620 | State-approved nail technician or cosmetology program; state license |
| Makeup Artist (Theatrical and Performance) | Applies makeup to actors to alter their appearances | $44,310 | School of cosmetology |
Sources:
Bureau of Labor Statistics, US Department of Labor, Occupational Outlook Handbook, 2014-15 (visited October 12, 2015).
Employment and Training Administration, US Department of Labor, O*NET Online  (visited October 12, 2015).
Associated Skin Care Professionals. Become a Skin Care Professional (visited October 15, 2015)