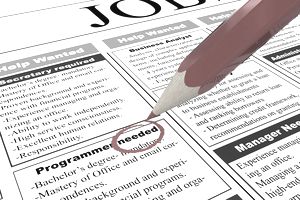 You're looking around on Indeed or one of the other job sites, and you see a job posted that sounds exactly your job. Your first thought is probably: "Why is my position advertised?" Then you might start wondering if you are about to lose your job.
What to Do if Your Job Is Advertised
It can be alarming (to say the least) if you notice that your job is being advertised, and it's important to take action to deal with the situation.
But, first of all, don't panic.
In some cases, employers will add a job similar or identical to an existing job and have no intention of firing anyone else in that capacity. In other cases, it will be obvious that your job is being advertised since it is one of a kind like Director of Sales for the Eastern Region, for example.
Get the Facts Before You Panic
Before you panic, try to figure out what's going on. If you work for a large company, there will obviously be more turnover and more advertised job openings than at a smaller company. In addition, job listings can stay online after a position is filled. The best place to check to be certain which jobs are currently available is on your company's jobs website.
If you aren't positive that it's your job that is being advertised, you have two basic options. You can seek clarification from management or operate as though you are sure that your job is in jeopardy.
However, confronting management could result in an immediate request for you to vacate the premises, and you'll be out of a job sooner rather than later.
On the other hand, discussion with your supervisor might provide the opportunity to discuss issues like a deal for your continued cooperation in exchange for severance pay, a recommendation, or perhaps even a transfer into another job.
Watch Your Back
Be careful not to slack off at work or display any evidence of a negative attitude. You want to make it harder for your employer to let you go or make do without you. Don't give them an excuse to fire you. If your attitude is positive and your current job is just not a great fit, your employer will be more likely to consider you for an alternate role or at least give you as much time as possible to find a new job before letting you go.
Know Your Legal Rights
You may want to consult with an employment attorney or union representative if you think you have protections available through an employment contract or a collective bargaining agreement. Most employees don't have any such protections since they are hired at will.
Start a Job Search
You should immediately spring into job search mode if you aren't sure that your job is safe. This means updating your resume to include the latest information about your current position. Also, make sure that your LinkedIn profile is complete (including recommendations) and up-to-date. Start to scour job listings and apply for at least seven jobs each week, if possible. Here are tips on how to start a job search.
Launch a vigorous networking campaign by reaching out to contacts through your family/friends network, college alumni and members of professional groups to which you belong.
Use social media to identify additional prospects like members of groups on LinkedIn. Approach as many contacts as possible for informational consultations.
Increase your professional activity. Help to organize meetings and conferences, volunteer for committee assignments and present workshops at professional meetings to raise your visibility.