What to Do With a Degree in Political Science
Alternative Careers for Poli Sci Majors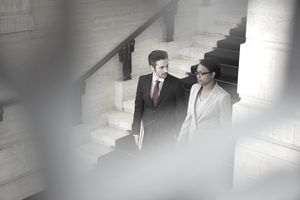 Are you interested in learning about the inner workings of governments? Do you want to study political processes, systems and behavior? You should consider majoring in political science, or poli sci as many people affectionately call it. Your college years will be spent exploring topics such as political theory, comparative politics, policy studies and international relations. In addition to all the knowledge you will acquire, you will also cultivate excellent written and oral communication, decision making, analytical thinking, problem solving and research skills.
You will also be able to work well under pressure, develop and market ideas, function as a strong leader and a team player, and interact with diverse populations. Having a cache of skills and abilities as large as this qualifies you for many careers. Let's take a look at some of them.
Political Scientist
Poli Sci majors who choose to become political scientists continue to study political systems, public policies and the structure of governments. They research political subjects, collect and analyze data collected from public opinion surveys, test theories, monitor current events and forecast trends. This is the most obvious choice for a poli sci major but that doesn't make it the best one. It is merely one of your options, but in order to pursue it you will need to earn a master's degree or PhD in political science, public administration or a related field.
More About Political Scientists
Attorney
Attorneys advise people who are involved in civil or criminal legal cases. They present evidence in support of their clients; interpret laws, rules and regulations for their clients; negotiate settlements; and prepare legal documents. Majoring in political science will endow you with all the skills you need for this career—strong communication, analytical, problem solving and research skills—but you will also need to earn a law degree after you complete your bachelor's degree.
Political science is a popular undergraduate major for law school applicants.
Paralegal
Paralegals help attorneys prepare for trials, hearings and closings. They do research and draft legal documents. While they need some of the same skills attorneys do, for example strong communication and research skills, they don't have to attend law school. Instead, one can get a certificate in paralegal studies after earning a bachelor's degree in poli sci.
News Reporter
News reporters investigate news stories and then deliver them to the public via television, radio, print or the web. They do research, make observations and interview witnesses. A degree in political science will be particularly helpful to political reporters or those who cover international affairs or government. A reporter must have strong research and communication skills, both of which you would have picked up while earning your degree.
Legislator
After getting elected, legislators run the federal government as well as state and local governments. They enact and carry out laws and make decisions regarding the distribution of public funds. While you don't need a degree in political science or any degree for that matter to become a legislator, the education will provide you with an in-depth understanding of how governments function.
Your problem solving, decision making, communication and leadership skills will help you do your job.
Lobbyist
Lobbyists work for all different types of institutions and special interests groups. Their job involves persuading legislators to enact laws that benefit the entities they represent. Some lobbyists are volunteers but many are paid for their work. If you want to be a lobbyist you must have good communication, as well as strong research, skills. You also need to be knowledgeable about the legislative process. So far so good. You have all those qualities. You will also need to know a lot about the industry or cause you will represent. Many who work in this field choose to focus on topics that are meaningful to them and about which they have substantial knowledge.
Tax Examiner, Revenue Agent or Collector
Tax examiners, revenue agents and collectors all make sure taxes are filed properly. There is a slight difference between these occupations: tax examiners handle individuals' taxes, revenue agents work with corporations' taxes and collectors are responsible for overdue accounts. You can call upon your excellent analytical skills to succeed in this career field.
More About Tax Examiners, Revenue Agents and Collectors
Urban or Regional Planner
Urban and regional planners help communities figure out how to best use their land and resources. They work for local governments. Your knowledge of how they function can help you with this aspect of your job. You will also utilize your strong communication skills because urban and regional planners spend a significant amount of time meeting with the public, government officials and special interest groups. Plan to spend a little more time in school. You also need a master's degree in urban and regional planning.
More About Urban and Regional Planners
CIA National Clandestine Service Core Collector (Spy)
The National Clandestine Service of the US Central Intelligence Agency doesn't call their employees spies but that's essentially what they are. They are officially known as core collectors and what they collect is human intelligence from foreign sources. You need a bachelor's degree to enter the NCS Professional Trainee Program. A variety of majors is acceptable but a background in international relations is desirable for many jobs within the NCS. You must also be proficient in a foreign language. Your excellent problem solving, leadership and communication skills and your ability to work well under pressure make you a strong candidate for the program.
Government/Politics Secondary School Teacher
Secondary school teachers instruct their students in one of a variety of subjects including mathematics, English, art, history, world languages, and government and politics. Individuals who aspire to work in this occupation typically get dual bachelor's degrees in the subjects in which they want to specialize—in your case, political science—and in education. In addition to your subject area knowledge, you will also bring your excellent communication skills to your job.