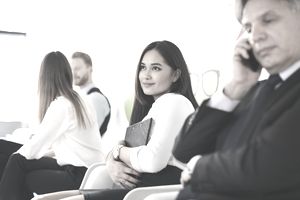 Are you interviewing for a job at Target? The retail giant has nearly 2,000 stores across the United States and is frequently hiring cashiers, sales assistants, managers, and other positions. 
If you're applying for a job at Target, it may be one of your first job interviews ever. Read on for advice on selecting an interview outfit, along with how to prepare for common questions during an interview at Target.
What to Wear to a Job Interview at Target 
What you wear to an interview at Target depends on what type of position you're applying for: 
Entry level positions: Choose a business casual look, like a polo shirt with khakis, or a dress shirt with black slacks.
Managers: Your outfit should reflect a higher level of professionalism. If you're a male, consider adding a tie. If you're a woman, you might want to wear a skirt with a dress blazer.
For any position, avoid wearing jeans. Make sure your clothes are clean and unwrinkled. Ultimately, it's important to appear well-kept. Especially if you're applying for a position in which you'll be interacting with customers, you'll need to represent the company and seem approachable and friendly. Avoid wearing anything that might be controversial, like a t-shirt with writing on it, or off-putting, like sloppy sweatpants or messy hair. 
Another important part of presenting yourself in a professional manner is your attitude.
You need to dress well, but, you also need to demonstrate to your interviewer that you will be a positive addition to the team and that you will be friendly and accommodating to customers.
So, just as important as what clothes you put on - you should also wear a smile.
Should You Wear the Target Uniform? 
Some candidates for employment at Target wonder if they should wear the Target uniform: a red shirt with khaki pants.
Unless you are explicitly instructed to wear this, it's generally better to stick to a more basic business casual, generic look. You don't want to seem presumptuous, and wearing the uniform to the job interview could make you seem sure you've already landed the job.  
Target Interview Tips
More Tips to Help You Ace the Interview 
How to Dress for Success
How to dress for an interview including advice on what, and what not, to wear on a job interview, appropriate interview attire, how to impress a prospective employer and tips on dressing for success. Plus, see tips for what to wear during an interview for high school students, college students, internships, college campus jobs, and summer jobs.  
Most Common Interview Mistakes to Avoid
Here are the most common interview mistakes job seekers make and how to avoid them.
Interview Questions and Answers 
The key to successful interviewing is to review these typical interview questions and prepare your answers.