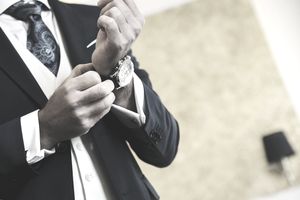 Are you starting your career as a realtor and not sure what to wear? What you wear to your real estate job may vary depending on what you plan to accomplish that day and where you will be working, but you should always dress in a neat, clean, and professional manner.
Dress in larger metropolitan areas will tend to be more formal business attire on a daily basis.
Even if you are not meeting with any clients on a particular day, your colleagues may be, and it's important that the entire staff project a competent, conservative image.
For Realtors in smaller towns and in locations that are vacation destinations, more casual attire is appropriate.
What to Wear to Meet Clients
If you are meeting clients, or showing properties, depending on where you are working, you will most often choose to dress in business attire.
For men, this means a suit or dress slacks and a jacket, button down shirt, tie, dark socks, and dress shoes.
For women, a skirt or pant suit, conservative dress with a jacket, or dress skirt or slacks with a blouse or sweater, and coordinating jacket, hosiery, and closed toe pumps.
If you're in a more rural or a vacation resort area more casual attire is the norm. For example, if you're showing condos in a ski or beach town, business casual or even casual attire is typical.
What to Wear in the Office
If you are spending the day in the office doing paperwork and making follow up calls, you can often wear business casual.
Business casual for men encompasses dress slacks or chinos, button down shirt, dressy polo shirt, jacket optional, dark socks and dress shoes.
For women, a skirt or dress slacks, blouse, sweater, twin set, jacket optional, hosiery, closed toe pumps are acceptable. 
No jeans, no sneakers, unless you are specifically told that they are acceptable, and even then, it's better to wait until after you have been there a while, and have noticed how predominant that kind of dress is.