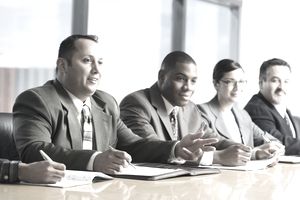 Before you start to formulate an answer for interview questions about the company culture you would be most interested in working in, take the time to brainstorm about the company culture as a whole, and what it means to you.
How to Answer Interview Questions About Your Ideal Organizational Culture
Here are some questions to ask when you're considering the workplace culture of an organization:
Are employees at all levels involved in decision making?
Does the organization have a coherent mission and strategic plan and are they clearly communicated to staff? 
Are teamwork and collaboration valued? 
Are employees rewarded based on merit or does political favoritism play a more important role?
Does the organization encourage innovation and entrepreneurship?  
Is there a pattern of promotion from within? 
Does the company make a major investment in training and professional development? 
Are leaders and veteran staff encouraged to mentor? 
Is there an element of fun for employees who work there? 
 Are employees afforded the flexibility to accommodate outside needs and interests?
How to Prepare an Answer
  Now that you have these aspects in mind, you can prepare for this question by breaking down the process into three parts.
First, you should create a profile of your ideal organizational culture. Next, research the culture of your target employer.   The "About Us" and Career sections of their website should provide some clues.
You can also ask the staff who you meet early in the interview process to characterize the organization's culture.  
Also, searching Google for "company reviews" will generate a list of sites with feedback from current or past employees about their organizations. One of the best ways to get an unbiased insider's view of corporate culture is to network with current or past employees.
Search LinkedIn to see if you have any contacts at the organization or if your primary contacts are connected to any employees and ask them to describe the culture.  Once you have a sense of the company's culture, decide which parts of your ideal profile to incorporate in your answer. 
Show the Employer How You Will Add Value
Although you will want to carefully evaluate how the culture at your target organization matches your criteria to make a sound decision about the job, it's usually not strategically advantageous to share your entire list of preferences. 
Instead,  focus on areas where your preferences overlap with aspects of the company's actual culture. After all, no corporate culture will exactly line up with your criteria.  So, if an organization values innovation, you might emphasize your interest in an organization that supports staff initiative. 
Also, place greater emphasis on factors which can reveal how you will add value,  as opposed to aspects of the culture that will satisfy your personal needs. You might focus less on elements like fun and flexibility, than on factors like opportunities for training and professional development,  or rewards for high levels of performance.
Is This the Right Company Culture For You?
It's important to carefully evaluate the company's culture to determine whether it's a fit for you. If the information you discover while you're researching makes you think you might not want to work there, there's no point in trying to convince the employer you would be a good match for the job.  Consider whether this is the right position for you before you move forward with the application process. 
Additional Information 
How to Answer Interview Questions About Yourself
Company Culture Interview Questions
What is Candidate Fit?