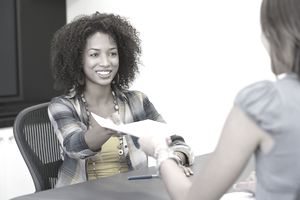 Do you need to include your high school or college grade point average (GPA) on your resume? When can you leave it off, and when should you leave it off?
In high school and college, job seekers tend to include their GPAs on their resumes, particularly if they are strong (generally above a 3.5). However, after graduating from college, it can be difficult to know when to remove that decimal number from your resume.
Here's information on when - and when not - to include your GPA on your resume. Following this, review an example of how to list your GPA when you do include it, and tips for what to list in the Education section of your resume.
When to Include a GPA on Your Resume
There is no specific rule about whether to keep or remove your GPA from your resume after college. However, the general guideline is that, during the first year or two after university, it's fine to keep your GPA on your resume.
This is particularly true if you have a very high GPA – about a 3.8 or above. As a recent college graduate with limited work experience, your GPA can be a key reflection of your skills, your work ethic, and your personal drive to succeed.
In some cases, an employer might specifically ask for your GPA in the job posting or application. Be sure to list it when it's required, so your application gets full consideration.
When Not to Include a GPA on Your Resume
Once you have 2-3 years of work experience, however, it is time to remove your GPA from your resume. At this point in life, your work experience speaks more to your skills than your old GPA.
Let go of your past academic success, and use that extra space on your resume to provide an example of a more recent work accomplishment.
This will demonstrate to employers that you are not "resting on your laurels" from school, but have matured into a forward-looking professional who is now fully engaged in your career.
What to Include in the Education Section of a Resume
In the education section of your resume, list the schools you attended, the degrees you attained, your GPA if you are a student or a recent graduate, and any special awards and honors you earned.
Professional development courses and certifications should also be included in the education section of your resume, as should the names of any extracurricular clubs, charitable groups, or Greek organizations where you were active and/or held a leadership role.
Resume Education Section Outline

College, Degree
Awards, Honors

Certification

Professional Development

Resume Education Section Example

Huntown College
May 20XX
Bachelor of Arts in English, Department honors
3.8 GPA

Level 1 Strategic Communication Certification
March 20XX
Tips for the Education Section of Your Resume
Have you been in the workforce for several years? If so, you don't need to include the year of your graduation or your GPA.
If you are a recent graduate and have a great GPA (above 3.5) you can list that on your resume. If your GPA wasn't so great, it's certainly not necessary to list it unless an employer asks for it.
If you are a recent graduate and made Dean's List, be sure to mention it!
Sorority or fraternity membership can be a powerful networking tool, so if you have an affiliation, you can list it below the Awards and Honors line.
If you held a leadership role in a school-affiliated organization, you can list that below the Awards and Honors line.
If the sub-college of your university is well known and relevant (e.g., say you graduated from the Hospitality School of your university) you can include that before you write the title of your specific degree.
Even if you, as a newly minted college graduate, lack significant work experience, mentioning a GPA of 3.8 or higher will capture the attention of potential employers and set you apart from much of your competition. Good luck!