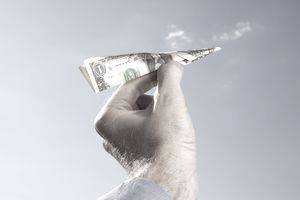 What can you do if your unemployment benefits run out or are about to run out? First, check with your state unemployment office to make sure that you are receiving all the extended benefits you qualify for. If your eligibility is almost exhausted, look at the other resources that are available and take advantage of whatever you can to help you get by until you find your new job.
What to Do When Unemployment Runs Out
Don't be proud—your temporarily reduced circumstances may qualify you for food stamps or other government benefits.
Remember, you paid for those benefits out of every paycheck you earned. Your state's Social Services department can inform you what assistance you qualify for. If you are a member of a church, ask if any help is available. Community organizations often have resources to help the unemployed with food baskets, donations, and babysitting assistance. If you can get assistance from family or friends, don't hesitate to ask.
Visit the Library
Check with your local library for help in your job search. Many libraries have computers you can use to search for jobs and may also offer job search workshops. In addition, if you don't have your own computer, you can use the library computers to check email (get a free Gmail, Yahoo, or another account), and apply for jobs (save a copy of your resume and cover letters online using Google Docs).
Loans for Unemployed Workers
You may be able to borrow money even though you are not employed.
Find information on the types of loans available for unemployed workers, how to qualify for a loan, and options for borrowing money when you are out of work.
Free Job Search Help
Identify and find free, or inexpensive, job search and career resources in your geographic areas.
Check With Your Local One-Stop Career Center
Your local One-Stop Career Center may have information on local resources such as community organizations that may be able to offer support with utility bills, food costs, etc.
One-Stops might also have information on temporary positions, in addition to permanent or long-term job listings and possible assistance with upgrading skills and obtaining training to increase a job seeker's marketability.
Nonprofit and Social Services Agencies
2-1-1 Call Center
Call to find local assistance with training, employment, food pantries, affordable housing, and support groups.
Directory of Homeless Shelters
Find a listing of homeless shelters throughout the United States from the National Coalition of the Homeless.
Free Phones
Free phone service is available to eligible low-income families through several different programs. Each program is funded by telecommunications companies to ensure that low-income families have access to affordable phone service.
Loans for Unemployed Workers
Find information on the types of loans available for unemployed workers, how to qualify for a loan, and options for borrowing money when you are out of work.
Help With Pets
If you are having difficulty caring for your pets, there is help available. Check with your local animal shelter and veterinarian to see if they can assist or refer you to sources for pet food and care.
Home Affordable Modification Program (AMP)
This program, along with others, allows qualifying unemployed homeowners to reduce or suspend mortgage payments for 12 months or more so that they can focus on finding a job without the pressure of foreclosure.
Temporary Assistance for Needy Families
Each state has a Temporary Assistance for Needy Families (TANF) program (formerly called welfare). TANF can help with food stamps, financial assistance, training, and job searching.
Food Stamps
The federal food stamp program, now called the Supplemental Nutrition Assistance Program (SNAP), helps low-income families and individuals buy food.
Medicaid
Medicaid provides medical benefits to low-income people who have no medical insurance or inadequate medical insurance.
WIC
WIC stands for Women, Infants, and Children. WIC is a supplemental nutrition program administered by the Food and Nutrition Service (FNS) division of the U.S. Department of Agriculture.
State and Local Social Services Offices
Click on the map to find state and local social services offices in your locations.
It can be scary when you have lost your job and are about to lose your unemployment benefits, but there are many resources listed in this article that you can still access for help.