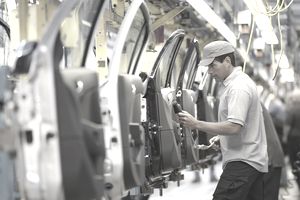 Which are the worst jobs to work at? The answer, as with best jobs lists, is that it depends. What might sound like a horrible job to one person, might not seem so bad to someone else. There are other factors than the job responsibilities to consider when you're evaluating occupations. There are jobs that don't pay well. There are also jobs where the projected hiring of new employees is expected to decline.
Health and safety are also factors to consider. Some occupations are much more stressful than others. The risk of getting hurt, or even killed, is much higher in occupations designated as dangerous. A high-stress job combined with low pay or a poor safety rating isn't going to be a good option for most people.
Everyone's experience differs, of course, but these are some of the jobs you may not want to consider if you're exploring career options or a change in your career path.
12 Worst Jobs
Here's a list of some of the worst jobs in America, in alphabetical order, based on salary, benefits, job opportunities, and worker health and safety concerns.
1. Assembly Worker
Assembly workers fit together the component parts of a product or segment of a product using tools, machines, and their hands.  
Factors Impacting Rating
Accidents and injuries are fairly common in production facilities. Tasks can be very repetitive, adding to the stress level of workers.
Jobs are expected to decline by 1 percent through 2024 due to increased automation and outsourcing of production to countries with lower labor costs and environmental standards.
2. Bank Teller
Bank tellers assist patrons with deposits and withdrawals, cash checks, reconcile balances, and communicate information about fees, policies and bank services.
Factors Impacting Rating
Bank teller jobs are projected to decline by 8 percent through 2024 due to the increase in mobile and online banking and the use of ATMs. Wages are low, averaging about $12.70 per hour and many jobs are part-time without benefits.
About the Job: Bank Teller Job Description
3. Coal Miner
Coal miners extract coal from underground mines or participate in strip mining activities. They dig tunnels, operate machinery, transport coal out of the mines, and secure the mines.
Factors Impacting Rating
A shift to cleaner fuels due to climate change and pollution concerns has limited mining industry opportunities. Health and safety risks due to exposure to fumes, mine collapses, and other accidents diminish the appeal of this occupation. Mine workers are more likely to be killed or to incur a non-fatal injury or illness, and their injuries are more likely to be severe than workers in private industry as a whole, according to the Bureau of Labor Statistics.
About the Job: The Most Common Mining Accidents
4. Farm Worker
Farm workers cultivate and fertilize fields, plant and harvest crops, and operate farm machinery. They convey harvested crops to storage areas.
Factors Impacting Rating
Many farm jobs are seasonal and carry limited benefits and low pay ($20,090/year).
Consolidation of farms into large, automated operations has limited opportunities with a projected decline of 6 percent in jobs by 2024. Long hours in often unpleasant weather conditions are negative factors for farm workers.
5. Fast Food and Short Order Cook
Fast food and short order cooks prepare meals for patrons of fast food establishments, diners, and other non-premium eateries.
Factors Impacting Rating
Cooks often work long hours and have frequent evening and weekend shifts. Kitchens can be overheated, and burns, cuts, and minor accidents are common. Wages are low, averaging $10.44 per hour and job growth is expected to be slower than average.
About the Job: Fast Food Worker Job Description
6. Fishing Worker
Fishing Workers prepare and maintain poles, nets, and other fishing gear. They catch, extract, and store fish.
Fishers unload their catch upon return to the docks.
Factors Impacting Rating
Fishers experience one of the highest rates of fatalities among all classes of workers. They must stay at sea, away from loved ones for extended periods, and withstand adverse weather and sea conditions. Depleted supplies of fish in many waters add an element of uncertainty regarding the success of expeditions. Low pay, averaging $14.41 per hour and little or no job growth as projected by the Bureau of Labor Statistics (BLS) through 2024.
About the Job: Commercial Fisherman Job Description
7. Logger
Logging workers cut down trees, operate machinery to transport logs, cut logs into desired lengths, and maintain equipment.
Factors Impacting Rating
Logging jobs are expected to decrease by 4 percent through 2024 due to international competition, lands designated for conservation and depleted forest lands. Accidents and job-related injuries are constant threats to worker health and safety. Loggers often work in isolated locations and in adverse weather conditions.
8. Medical Transcriptionist
Medical transcriptionists convert recordings of patient interactions by physicians and other healthcare professionals to written documents They interpret medical terms and abbreviations.
Factors Impacting Rating
Opportunities are expected to decline by 3 percent through 2024 due to productivity gains and an increase in direct recording of case notes by physicians. Salaries are relatively low, averaging $16.77 per hour.
About the Job: Work at Home Transcription Jobs
9. Newspaper Reporter
Newspaper reporters research and write stories about local, regional, and national events.  
Factors Impacting Rating
Print media opportunities are expected to decline by 8 percent through 2024 due to a shift to online media. Salaries are relatively low, averaging $33,736 per year. Deadline pressure and depleted staffing adds to job stress. Opportunities often require relocation to areas that may not be appealing to candidates.  
10. Postal Service Worker
Postal workers sort and deliver the mail and assist post office patrons with their mailing needs.
Factors Impacting Rating
Automated bill paying and the increase in electronic mail have reduced opportunities to work with the post service. The BLS estimates a 26 percent decline in jobs by 2024. Delivery workers must cope with adverse weather conditions, expanded territories, and close monitoring of productivity.   
About the Job: Post Office Jobs
11. Retail Sales Associate
Retail sales associates stock and display merchandise, advise customers, promote products, and process transactions.  
Factors Impacting Rating
Employees are often asked to work evenings, weekends and holidays. Many positions are part-time and do not carry benefits. Pay is low, averaging $10.60 per hour. The rise in online shopping has reduced the number of jobs available at some stores.  
About the Job: Top 20 Jobs in Retail
12. Taxi Driver
Taxi drivers transport customers to airports and other destinations. They collect fares and conduct conversations with passengers.  
Factors Impacting Rating
Taxi drivers must cope with the stress of traffic and are confronted with the potential danger of accidents. The emergence of driving services like Uber and Lyft have made it more challenging for full-time taxi drivers to earn a good living.
More Jobs Lists: Best and Worst Jobs | Top 10 Jobs to Work Remotely | Top Jobs for Trade School Graduates
Projected growth and occupational data provided by the Bureau of Labor Statistics' Occupational Outlook Handbook.