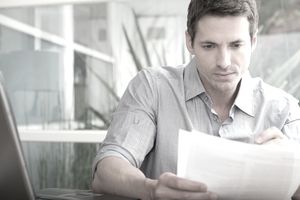 You may be a great writer, but still need some help writing your own resume. Writing and editing require a lot of interrelated skills, and it's hard to know what to include.
"Writing and editing" is a very broad category. Written language skills are an integral part of many positions in almost every industry. Even staff positions and freelance opportunities that center around writing or editing skills occur in multiple fields that don't overlap.
For example, just because you can create advertising copy or web content does not mean you can be a technical writer or a journalist—and vice versa. 
Yet there are certain core skills that all writers and editors share, plus there are other skills that are important features of many forms of professional writing. Also see below for information on editing and technical writing, and a list of skills editors and technical writers need.
Applying for Work as a Writer or Editor
Besides a traditional resume, you will likely have to provide a portfolio of successfully completed projects and a collection of writing samples. In fact, if you are a freelancer, you may not need a resume at all, because you will be self-employed and looking for clients, not jobs.
For your portfolio, choose those projects and writing samples that are most relevant to the client's project. Use your cover letter and other communication to point out how the skills demonstrated by your history relate to the client's needs.
Also draw attention to any relevant awards, publishing credits, or occasions where your work led to documented improvements in your client's bottom line. If visitation to a website increased by 25% after you rewrote its content, say so. Because clients vary in what they want, be prepared to re-organize your materials for every single pitch.
In many cases, educational or work history not directly related to writing or editing might be relevant to a particular job or project. For example, you might be hired to edit a book, in which case knowledge of the book's subject matter is a definite plus. Always be on the lookout for the possibility that your special expertise may be relevant, because the client might not think to ask.
Top Skills for Writers and Editors
Here is a list of some of the most in-demand skills for writers and editors
Excellent Spelling, Grammar, and Punctuation
Automatic spell-checkers and similar services are useful, but none are fully reliable. Excellent editing still requires a human being. Do not tell prospective clients that you can spell, however. Show them by making sure the writing in your pitch is perfect and by including any experience you have as a proof-reader. If you are familiar with a specific usage style, such as Chicago or Associated Press, say so.
SEO Skills
SEO stands for Search Engine Optimization, and refers to the various tricks used to make online text more attractive to search engines. Even for online content, not all clients require SEO, and many of those who do provide SEO guidelines for their writers, but if you know SEO, that is a huge advantage.
Research Skills
As a professional writer, you could be called upon to write on topics you don't know much about. This requires research, usually but not always online. If you are good at finding and assimilating large amounts of information quickly, say so—and provide examples from your history to prove it.
Familiarity with Relevant Software and Platforms
Some clients require the use of certain word processing programs, file sharing services, collaboration apps, blogging platforms, or website templates. Some projects require other types of software, such as spreadsheets or video editing. The more of these you already know how to use, the better. If you can advise your client on which programs, apps, and platforms to use, that is better yet.
Collaboration and Communication
Writing is often collaborative - editing always is.
And the reality is that many people hire writers and editors because their own communication skills are poor. To succeed, you must be able to get along with others, even when the others are difficult to get along with.
Writing Skills List and Examples
Research
Analysis
Reporting
Report Writing
Online Searches
Identifying Audience
Content Review
Interpersonal Skills
Editorial Skills
Copy Editing
Copy writing
Digital Media
Drafting
Editing
Establishing Tone
Formatting
Grammar
Identifying Theme
Establishing Purpose
Journalist Ethics
Language
Media
Proofreading
Revising
Spelling
Structure
Style
Punctuation
Strong Vocabulary
Using the Rhetorical Triangle
Devise Structure
Establish Tone
Media Writing
Newsletters
Blog Writing
Journalism
News Writing
Organizing
Print Writing
Proposal Writing
Web Writing
Presentation Writing
Creative Writing
Feature Writing
Magazine Writing
Technical Skills
Outlining
Pagination
Production
Distribution
Layout Creation
Editing Skills List
Personal Attributes
Accuracy

Budgeting

Consistency

Creativity

Detail Oriented

Flexible

Interpersonal Skills

Team Player

Patience

Negotiation

Organization
Interpersonal Skills
Collaboration
Communications
Coordinating
Project Management
Teamwork
Author Meetings
Consulting
Contracts
Project Coordination
Verbal Communications
Written Communications
Working with Reviewers
Editorial Skills
Clarification
Developmental Editing
Digital Content Editing
Eliminating Jargon
Fact Checking
Grammar
Incorporating Additional Input
Indexing
Language 
Line-by-line Editing
Manuscript Creation
Mechanics of Style
Punctuation
Project Editing
Proofreading
Research
Rewriting
Rough Manuscript Edits
Spelling
Story Development
Structural Editing
Style
Style Manuals
Stylistic Editing
Substantive Editing
Terminology
Tone
Vandyke Checking
Vocabulary
Voice
Web Publishing
Design Skills
Design Supervision
Final Manuscript Production
Mark-Ups
Mock-Ups
Marking Color Breaks
Marking Head Levels
Typesetting
Working Sketches
Computer Skills
HTML
Content Management Systems (CMS)
Online Editing
Software
WordPress
InDesign
Word Processing
Journalism Skills
Applying Inductive Reasoning in Generating Storylines
Applying Specialized Knowledge in Business, Health, Economics, Politics etc. to Stories
Asking Tough Questions
Convincing Editors to Let You Pursue Stories
Coping with Deadline Pressure
Creating an Effective Social Media Presence to Promote Articles
Distinguishing Fact from Opinion
Establishing Rapport with Others Quickly
Evaluating the Legitimacy of Research Studies
Extracting Information from Primary Sources
Gauging What will Interest Readers
Grammatically Correct Writing
Handling Criticism from Editors and Readers
Incorporating the Right Data to Support Storylines
Interviewing Experts
Networking to Identify Sources
Overcoming Objections from Reluctant Sources
Protecting the Confidentiality of Sources
Questioning Witnesses
Reading Comprehension
Reconfirming Facts
Researching Background Information for Stories
Tapping Social Media To Identify Experts 
Utilizing Deductive Reasoning to Guide Research for Stories
Verbal Communication
Writing with a Who, What, Where and When Focus
Technical Writer Skills List and Examples
A technical writer prepares instructional and supporting documents to communicate complex technical information in a user friendly manner.
They develop and gather feedback from customers, designers, and manufacturers to help identify areas of confusion, and present solutions to the design and development teams. A technical writer is responsible for creating FAQs, charts, images, and training document, that can easily be understood by a wide range of backgrounds. 
A technical writer must have strong communication skills, along with exceptional writing and grammar skills. A Bachelor's degree in Journalism, English, or Communications is often required. However, some companies require a degree and/or knowledge in a specialized field. 
A - G
Ability to Work Autonomously
Analyze Information and Draw Conclusions
Create Diagrams, Drawings and Charts to Explain Product Usage
Develop and Maintain Standard Operating Procedures (SOPs)
Develop Style Guide
Ensure Consistency 
Excellent Grammar and Punctuation
Excellent Planning and Organizational Skills
Gather User Feedback 
Generate Help Files and FAQs
H - M
Help Users Understand Intricate and Technical Information
Knowledgeable of Industry Regulations
Limit Product Complexity>
Maintain and Update Document Library
Manage Documentation Process
Multitask Assignments Simultaneously
N - S
Prepare Internal and External Technical Documents
Proficient in Microsoft Word
Provide Solutions to Product Issues
Review Documents For Completeness and Accuracy
Standardize Product Content
Strong Attention to Detail
Strong Understanding of Product Features and User Needs
Strong Writer 
Strong Research and Product Knowledge 
T - Z
Understand Information Design and Architecture
Work Closely With Technical and Non-Technical Team Members
Work Well Under Pressure to Meet Deadlines
Write and Edit Product Publications
Write and Organize Instructional Documents
Skills Lists: Employment Skills Listed by Job | Lists of Skills for Resumes
Related Articles: Soft vs. Hard Skills | How to Include Keywords in Your Resume | List of Keywords for Resumes and Cover Letters